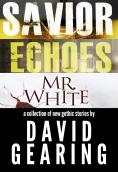 $8.99 ebook
Publisher:

Akusai Publishing

Available in:

Kindle

Published:

October 1, 2014
Buy from Amazon
A collection of David Gearing's first novels, now for a great discount.
The town of Saraday, South Carolina has been hidden from most people's places to visit. The wise visitors drive right through. Other more adventurous folks like to stop by and check out the Lil Teapot Cafe and the little plantation home that withstood the Great Fire of 1862.
Saraday is a place of ghosts and legends. Of Evil Incarnate and twisted dreams. Where Demons come to play.
So welcome to Saraday. Pull up a chair and listen a while. Once you come to Saraday, there's no turning back.
Included in this collection:
Savior: A young, gay detective attempts to atone for past guilt by saving a teenage boy. There's just one problem: the boy doesn't seem to exist.
Echoes: Shannon has always missed her best friend Rebecca. When she starts hearing her voice in the house, Shannon couldn't be happier. Until Rebecca reveals that she has a few loose ends to tie up.
Mr. White: Upon visiting his ailing mother in Raising Canes Adult Living Facility, Spencer meets the friendly and mysterious Mr. White. Their friendship is the stuff of nightmares.
Purchase in paperback or ebook at your favorite retailer!