David has been a busy bee working on a new series War for Souls trilogy. This new series is a new twist on mythology and urban fantasy.
Yes, you read that right: mythology and urban fantasy.
Check out the firs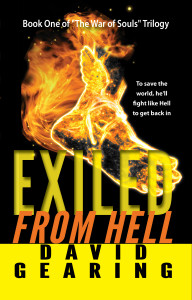 t book's description:
Two thousand years ago, the Olympians were evicted from their home on Mount Olympus and exiled into Hell by the new regime and its Christian God. They were renamed, depowered, and forced to live in the City of Dis in service of the new Lord of Darkness, Lucifer the Lightbringer.
Hermes, now called Erigan, is bored as hell working in the Terror Division of Hell. His job: to frighten and bring nightmares to human children. After accidentally breaking the soul of his boss's wife and getting his next assignment to haunt a child in Saraday, South Carolina, Erigan discovers he is unable to get back into Hell.
He hates his job anyway, so he takes the advice of his stubborn and womanizing friend Herakles—now called Behemoth—to relax and vacation in the little town. But life isn't much better in the Earth realm.
Still, it sounds like a great deal, until Erigan uncovers plot that points to his long-lost father and a plan to overthrow Hell to reclaim the Olympian legacy.